Sizes: S, M, L, XL, XXL*
Price: $16
Shipping: $4.25 (U.S. First Class or Priority Mail) $3.25 Each Additional
Outside U.S. - email for info.
Allow 3 - 6 Weeks For Delivery
*Add $2 For XXL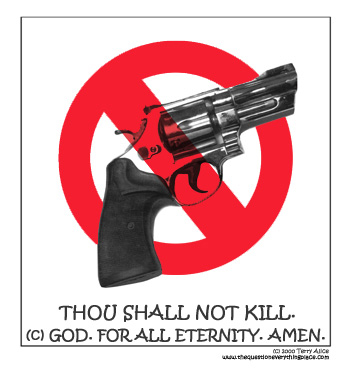 Moses will be so proud of you. And if you happen to run into Charleton Heston, who ironically played Moses in the film "The Ten Commandments" and who until recently was the illustrious head of the NRA - stand up taller than he is and shine a little light on him.
to buy - just click on your size:

Gildan Ultra 100% Cotton Heavyweight shirt. Printed in Hendersonville, Tennessee by ACP & Associates.

email: questions@thequestioneverythingplace.com
(c) 2020 Terry Alice. All Rights Reserved.